Stop Smart Meters! has been pounding the pavement recently in San Francisco, telling all who will listen about the urgent need to resist installation.  We were honored last week to be invited to present to the esteemed members of the Golden Gate Breakfast Club, one of the most respected social clubs in San Francisco that includes members from the business, charitable, and political leadership of the City.  The club boasts such members as Jim Lazarus, Senior Vice President of the San Francisco Chamber of Commerce, who was oddly absent for our talk.  Perhaps it's because he has been doing promotional ads for PG&E talking up the 'benefits' of 'smart' meters, and didn't want to hear about the reality of the hazardous, false techno-solutions he is backing. (He is at about 1:40 in the video)
PG&E had their opportunity to address the Club a couple of weeks ago, and we were there to listen.   The PG&E representative- Travis- told the Club that 'smart' meters were being paid for by federal stimulus funds and no rates were being raised to pay for the meters.  The facts are that PG&E obtained the entire $2.2 billion cost from customers through rate increases approved by the CPUC.  Being casual with the truth is hardly out of character for the investor owned utility though.   PG&E has been lying, cheating, and stealing every chance it can get, as long as there is money involved.  One of the most popular lies- parroted by the CPUC (and in fact by Travis) is that wireless meters are mandated by the Federal Government and there is no way to opt out.    Not the case!  Federal smart grid policy does not mandate either that we have new 'smart' meters or that they be wireless.  But making people believe that sure helps the utilities force their meters on people.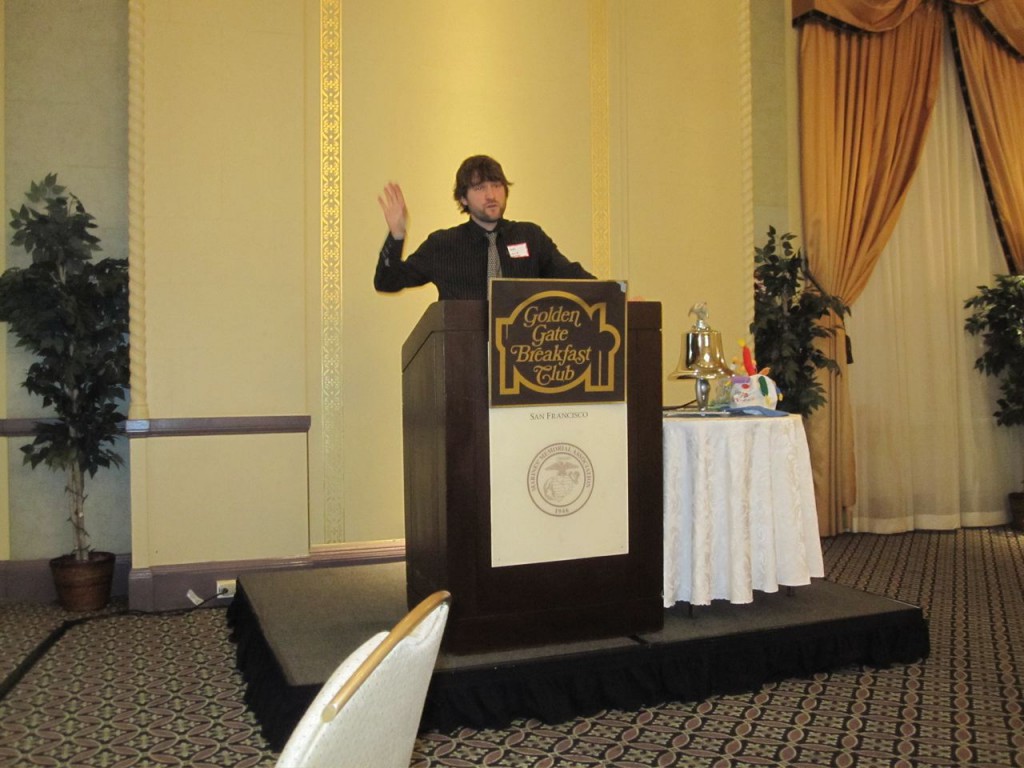 Last Wednesday, it was our chance to set the record straight.  We woke up at 5am, headed down to the Marines Memorial Building near Union Square for a bright and early 7am start (how do they do it every Wednesday?).    We presented the case against wireless smart meters, from health to privacy, accuracy to interference.  Several of the club members reported inaccurate, overinflated bills, or cases of electronic interference, so it was no chore to convince them that the concerns of 30 CA local governments and millions of people are legitimate.
We thank the members of the GGBC for their rapt attention, clarifying questions, and interest in the topic of wireless smart meters.   If you are part of a civic society or other organization, please contact us and have us come and speak at your event about the smart meter debacle.  Believe us, it grows more nightmarish daily.
Come to the CA Public Utilities Commission meeting this Thursday, March 10th at 9:30am at 505 Van Ness Ave. in San Francisco's Civic Center.   Let's allow all voices be heard.  Smart meters must be stopped!