PG&E installed 112 'smart' meters on the wall at this Redwood Gardens apt. complex in January. The photo on the left was taken on March 19th. The photo on the right was taken April 7th. The photo below with the new metal doors was taken on May 18th.
The other day, we were thinking about the woman from the Berkeley apartment building who sent us the photos of the dying shrub right outside the bank of 'smart' meters.  We e-mailed the woman to ask how she was doing- and how the shrub was doing.  This was her reply:
"Funny you email today…the shrub died completely and was recently removed.  Today the wood doors to the wall of smart meters are being replaced with metal doors which I'm wondering may reflect even more emf into our apartments.  Here is a photo taken today.  Thank you for all your important work.

In the meantime I avoid my living room which is nearest the meters and kind of a drag to confine myself to one room now."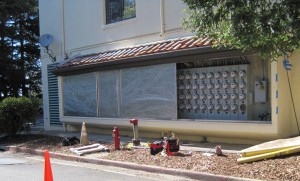 We believe this is more than just "a drag".  It is an unconstitutional taking by the utilities.  And it is ruining people's lives (not to mention the plants).  So last Friday we went to Berkeley with our EMF analyzer to find out what was going on and to take measurements.  As it turns out, there are 112 (not 180) electrical meters on this wall- the other 68 are located at a different location within the complex.  Here is the video we recorded in Berkeley last Friday: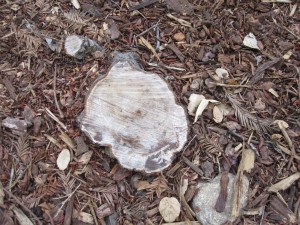 From a healthy green shrub to a stump in two months- courtesy of PG&E SmartMeters?