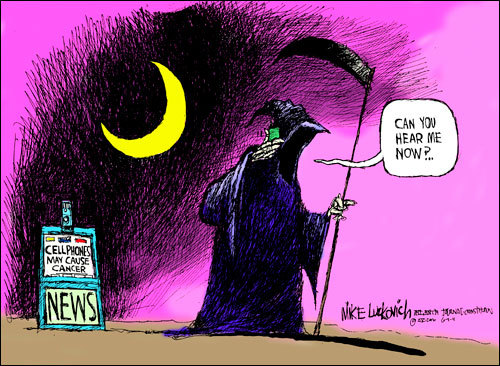 Make no mistake.   The decision by the World Health Organization on Tuesday to classify non-ionizing radiofrequency electromagnetic radiation as "possibly carcinogenic to humans" is an absolute game changer for our movement. This seemingly cautious statement by the world's pre-eminent health organization should ring loud alarm bells around the world.  Despite backroom industry influence and widespread conservatism, the slow-to-react beast was finally forced to act- as the walls of wireless damage closed in.
Wireless technology is something most of us have taken for granted for quite a while now.  Someone said the other day, "I don't even remember when they introduced cell phones.  All of a sudden everyone was just using them."  Therein lies the crux.  We just took the phone we were handed.  We didn't ask questions.  We trusted that any authority that would allow this product to be sold would not do so without reasonable assurances of safety.  It is now clear that that misplaced trust has been betrayed, and people are dying because of it.
The truth is that our government allowed (even promoted) a technology whose effects on biological living systems we really knew very little about. There's capitalism for you.  Life really isn't that important.  It's all about the money.  You are expendable. So- apparently- is the planet.
The WHO's decision, and the large number of studies that led to it are suddenly opening up a whole new set of questions about how we use wireless- questions that people wouldn't have dared to whisper- even last week.
For example:
1)  Shouldn't  there be laws against someone else's wi-fi entering your home?  Your neighbor would not be allowed to douse your living room with chloroform (now in the same 'possibly carcinogenic' category as EMF radiation).  Why should they be able to inflict wi-fi on you- particularly if it prevents you from carrying out basic life activities- like- er- sleeping?
2)  Shouldn't public buildings such as libraries and public transportation ban wireless emitting devices such as wi-fi routers, cell phones and iPads?  A bus full of 100 people on their cell phones- with all their signals bouncing around the metal chassis- is like being forced to sit inside a microwave oven.  We are entitled to accessible transportation and public services, without being exposed to a carcinogen.  Wireless makes these services inaccessible to the growing number of electrosensitive individuals.  There's definitely a lawsuit here if officials fail to do their job.
3) Isn't it now just as morally acceptable to ask someone to turn off their cell phone in a public place as asking them to extinguish that cigarette?
We wouldn't be surprised to see regulations coming forward over the next few years restricting cell phone use in the same way that smoking has been further and further marginalized, from sections in restaurants to banned inside even bars, to prohibitions around doorways, and now bans in entire neighborhoods.
So where does all this leave the "smart" meter rollout?  PG&E and other utilities have pointed to the World Health Organization to reassure its customers of the safety of RF radiation.  Now that the WHO has declared that such radiation is 'possibly carcinogenic' and independent analyses have pegged "smart" meter radiation at 100x the exposure of a cell phone, the wireless mesh network is looking more and more like a dangerous mistake.  The utilities that launched this program without even consulting us- arrogantly refusing  to consider the human or environmental health impacts- should be the ones to pick up the pieces and pay the tab for this debacle.  Not the ratepayers.  Not the victims who are living like animals running from this vicious technology; living in their cars or in the woods.
The East Bay Express reports PG&E's words a year ago:
"The federal government and the international health community, including the World Health Organization," PG&E said at the time, "have deemed the low-level radio frequency on which PG&E's SmartMeters rely to be completely safe."

But not anymore.
David Baker, Energy reporter for the SF Chronicle wrote:
'Given the potential consequences for public health of this classification and findings, it is important that additional research be conducted into the long-term, heavy use of mobile phones,' said Christopher Wild, the WHO's director. 'Pending the availability of such information, it is important to take pragmatic measures to reduce exposure such as hands-free devices or texting.'

That's similar to the arguments made by many California city councils that have called for a SmartMeter moratorium. If the science isn't settled, they argue, shouldn't we stop installing the meters until it is?

They now have more ammunition to press their case."
To many of us who have experienced firsthand the health damage caused by wireless, the WHO declaration is just one more brick in the wall of evidence that this technology hurts people.  But to most people, this is a huge wake up call that has received widespread coverage in the mainstream media- as if this is a new thing.  Just like gradual acceptance of climate change over the past couple of decades, governments, industry and institutions will brush aside the critics, pretending they are now the ones to protect you from the dangers and that they have the situation under control.  They will promote new devices to shield your skull from radiation- the light cigarettes and electric cars of the wireless world.  But in the end we know what we need to do.  We just need to quit the addiction.  We need to re-wire.  And our lives will be better for it.