Those of us watching the 'smart' meter debacle unfold over the past couple of years- as the California Public Utilities Commission and state legislature sit on their hands- are continually disgusted by the audacity, recklessness, and sheer inhumanity of the people covering for this deployment.
It's no secret that the CPUC has been used for years as a buffer between the scandalous and dangerous activities of the utility/ telecom industry and an increasingly outraged public. If a new transmission line is planned to be built through your backyard, you can complain to your assemblymember or state senator but they will point to the CPUC, and say something like "it's not my fault, Mr. constituent.  My hands are tied." This is electoral insulation that facilitates undemocratic policies at the expense of the public's health and safety.
The CPUC's president- Michael Peevey- is a dangerous and ignorant man, and has become a symbol of where state government has gone terribly wrong.  He's also steeped in the pursuit of power and money and the exclusive social circles of the uber rich. Formerly the CEO of Southern California Edison, Peevey has become a symbol of high level corruption, going on frequent exclusive vacations paid for by the power industry, partying with the same corporations his agency is supposed to regulate.  Peevey has been a chauvinist to female members of the public who come to speak at commission meetings.  He has ridiculed those who are electrosensitive- people who are suffering terribly from the smart meter mesh network- as delusional, inferring that we are all just making it up.
Peevey continues to serve as president of the CPUC at the pleasure of Governor Jerry Brown, who has the power to appoint a new president of the Commission, but refuses.  The three commissioners who Brown has appointed over the last year could outvote pro-industry Commissioners Simon and Peevey but do not for whatever reason.
If the general public knew just how slimy the CPUC is, or just how much power the power companies exert over public officials, or just how little regard there is for human safety or the environment, there would be an all-out revolution tomorrow and the people would storm the CPUC with pitchforks and torches.  But therein lies the rub.  People do not know the whole truth- and why? Because…**Newsflash**  The mainstream media do not report the whole truth, and people for the most part don't spend their time reading websites like these.  Granted sometimes there are glimpses, but overall if you rely on TV, mainstream internet news sites, and newspapers, you are not understanding the full horror of what is unfolding.
Even after the San Bruno gas explosion razed an entire neighborhood and killed 8 people including Jacqueline Grieg an employee of the PUC's Division of Ratepayer Advocates whose job it was to advocate for gas line safety, the PUC continues to largely allow PG&E and the other utilities to do as they wish.  Even after literally thousands of written smart meter health complaints, and hundreds upon hundreds of people testifying at Commission meetings, telling of their suffering and begging the Commission to halt the project, there have been no investigations into health impacts, no public hearings with medical experts, no opportunity to find out why so many Californians are experiencing the same kinds of symptoms from the meters.  Nothing.  It's almost like they are trying to cover it up.
The CPUC meets about every two weeks- their next meeting is tomorrow morning- September 8th at 9am at 505 Van Ness Ave. in San Francisco.  Anyone from the public who signs in by 9am is granted at least 1 minute to speak.  Oh excuse me- this just in- Mr. Peevey is getting tired of hearing all the same people speak at every commission meeting about their boring health effects- so he is implementing an arcane rule that states that those who have spoken on a topic before may not address that topic to the commission again.  How insulting, demeaning, and just petty of you Mr. Peevey. We can play your little game if that's what you want.  I plan to speak tomorrow on the topic of electro-sensitivity, a growing health problem you might have noticed, a looming cloud on the horizon, threatening to rain on the industry's wild west wireless profit parade.
So not only is the commission hell bent on restricting our freedom to speak, they know full well that the 12+ wifi signals in the commission room and powerful cell signals make it almost impossible for the most severely affected people to tell their stories, and unpleasant for many of the rest of us. Whether you want to admit it or not, in 2011, wireless radiation has become a weapon to suppress free speech, and intimidate the public with a device on every home.  I'm just going to come out and say it.  When corporate power becomes so intertwined with government, this is called fascism.
So after thousands of written complaints from all over California, hundreds of testimonials on the record at Commission meetings, major medical scientists and doctors warning of potentially severe cumulative effects on the population, the World Health Organization classifying 'smart' meter radiation as a class 2B carcinogen (pdf) in May, the National Institutes of Health publishing smoking gun research in February, blowing away the FCC's argument that the only biological effect from non-ionizing radiation is if you are cooked like a hot dog in a microwave, showing that non-thermal biological effects from wireless radiation (like that emitted by a 'smart' meter) are real and measurable and can alter brain chemistry.  Even after two hundred 'smart' meters popped and sparked and shorted out in East Palo Alto a couple of weeks ago and a Cupertino condo was blown up by yet another gas explosion.   Even after all that the Commission refuses to hold open public hearings.  This is a criminal cover-up of criminal behavior and this will carry on unless the public rises up and puts a stop to it.   This problem is not going away and it's not going to fix itself.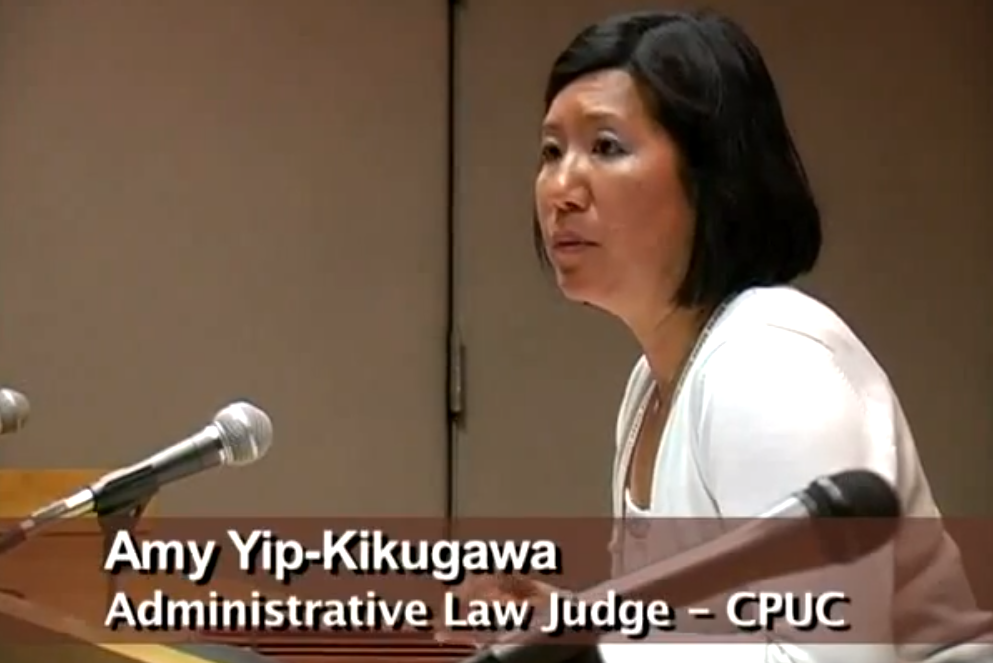 The closest the CPUC has come to a public hearing is a highly scripted 'workshop' planned for next Wednesday September 14th from 9:30am to 5pm in which Administrative Law Judge Yip-Kikugawa is presiding over a process to work out just how much the utilities will be allowed to extort from disabled and electrosensitive people.  You can view the first meeting of this proceeding at EON's site.  The problem with this proceeding is that it assumes that the utilities have the right to install a carcinogenic device on your private property against your will, a highly specious legal assumption.  The utilities claim the new meters are mandated but the fact is they were simply authorized by the CPUC.   The utilities failed to obtain permission to use our homes as communications and broadcasting facilities, and the fact is that that permission is required.
There will be no public comment allowed the whole day, yet there will be plenty of time for representatives from the utility companies and meter manufacturers to talk about how great their new 'smart' meters are.  Going up against the utility are a group of citizen advocates and local governments being represented by former utility attorney Jim Tobin of Tiburon, who have demanded a free, retroactive, individual and community wide analog opt-out.  Judge Yip-Kikugawa has already thrown out consideration for the one sane proposal that could have made a real difference to electrosensitive people- a community wide opt out that would carve out safe havens for people to live without headaches or other troubling symptoms. No explanation- just vanished from the discussion- missing from the agenda, removed by some invisible hand. The judge has even declared that the public is not allowed to film the proceedings.  This is not a process that will yield a fair and just solution to the growing problem that people are being thrown out of their homes, suffering terribly just so the utilities can save money on running some cable to our meters.
This is some background as to why- together with our allies- we are planning to hold a press conference and protest at 12:30pm on Sept. 14th .  We don't know how many people will show up- that's up to you- the grassroots spreading the word and getting people there.  Pack those cars, buses, trains, and ferries.   Let's show just how many people are opposed to this!
Our demands are very simple:
-It is illegal and immoral to charge an extra fee based on a medical condition. (see below)
-Communities retain the right to say NO to the 'smart' meter program.
-The plug must be pulled on the entire wireless mesh network.
The public is free to attend the all day workshop, which will be held in the main auditorium at the CPUC- 505 Van Ness Ave. in San Francisco- starting at 9:30am.  Join us during the lunch break to make some noise and protest this illegal opt out extortion plan.
The public must collectively raise our voice and demand justice for the most vulnerable in society.   No one- especially not the corrupt sleaze at the CPUC- will do it for us. ~SSM!
CA Public Utilities Code 453. (b) No public utility shall prejudice, disadvantage, or require different rates or deposit amounts from a person because of ancestry, medical condition, marital status or change in marital status, occupation, or any characteristic listed or defined in Section 11135 of the Government Code.