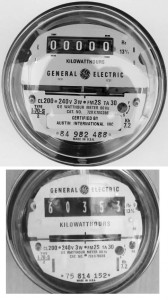 You can purchase verified electromechanical analog electric meters at Electrahealth.
These are refurbished analog meters with a numerical readout (not digital). The photo here is not a direct representation of the meters they sell, but very similar to their model.
Is having your own electric meter changed a crime? Is it "tampering" as PG&E and other utilities have told people? Basically, no, it does not constitute "tampering", i.e "a misdemeanor crime which requires the specific intent to get the utility service for a lower cost."
Shaun Kranish who runs Electrahealth, says they are going a brisk trade in these meters. He wholeheartedly supports people being educated about their electricity, and people having choices. If your utility refuses to give you an analog meter, get one easily and quickly at Electrahealth.