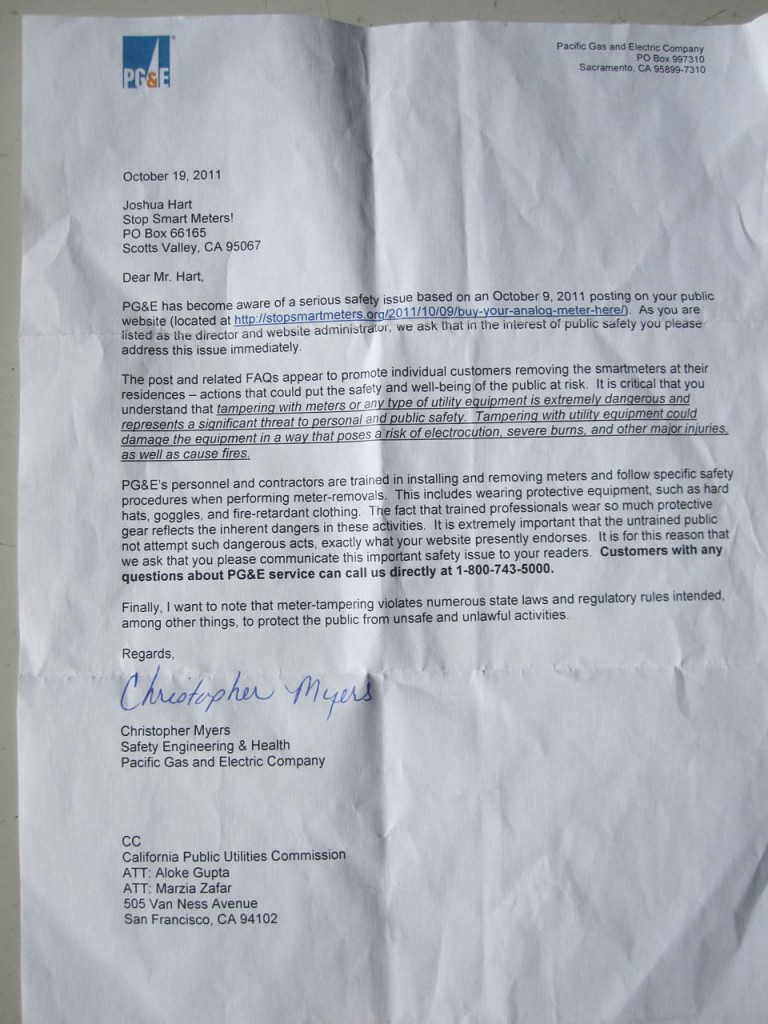 Okay so they didn't exactly give a green light to having your "smart" meter removed.  But it wasn't a red light either.   More like a flashing yellow caution sign.
First of all, as is clear to anyone who reads the post they refer to, we never encourage anyone who is not qualified to work on electrical equipment or to change their meter themselves.   PG&E is right about one thing — it could be dangerous and even lethal  (much like the "smart" meter itself). We are promoting residents who have requested 'smart' meter removal and have been met with a denial by their utility company to find a qualified professional who can swap the meter out for them.  Particularly if they are suffering common symptoms like headaches, nausea, tinnitus, or insomnia from the microwave emissions.   No one deserves to be forced to endure those kinds of health effects in the sanctity of their own home.  In addition, Michael Peevey, President of the CPUC, has authorized analog replacements for customers who request them.  Get with the program, Piggy.
Utilities could avoid people having their meters removed by third parties if they did their job and had their own technicians remove 'smart' meters upon customer request.  Until that day comes, utilities should not be surprised when people take matters into their own hands and have the smart meter removed.
If the originator of this letter, Mr. Christopher Myers, Safety Engineering and Health, really wants to live up to his job title, then he should order an immediate recall of 'smart' meters due to their threat to the aims of his job title.  Do your job, Chris!
Let's just review what the utility company has threatened to do to people who want to have their meter removed, and find out whether any of these threats hold water:
1) "You will be arrested and thrown in jail"  Again, having a meter changed is NOT a crime. Tampering with an intent to defraud the utility is a crime, but if you are careful and document each step of the process, it's unlikely that a jury of your peers would find you guilty of tampering.   Even PG&E does not pretend that meter changing with intent to protect your health and safety is equivalent to tampering with intent to defraud.
2)  "We will disconnect your power" State utility code does not allow utilities to disconnect anyone who has paid their bill on time simply for swapping a meter.
3)  "We will charge you hundreds of dollars" They can only charge you more if your state PUC allows them to do so, and this is typically a lengthy process.  Maine's PUC, for example charges about $10-$20/ month to keep your analog (which is still extortion)  It will likely be months – if ever – before any fees are allowed to be charged by the CA PUC.
The proof is in the pudding.  Not one person has been arrested, had their electricity switched off, or charged one extra cent for refusing or replacing a 'smart' meter.  So ignore their threats, stand your ground, and have that analog put back in its rightful place – on the side of your home!  Then lock it up!
Typical of the utility's dysfunctional circular logic, the last sentence reads: "tampering violates numerous state laws intended to … protect the public from … unlawful activities."   Those are the best kinds of laws — ones that protect the public from law breaking!
This letter is interesting as much for what it does say as for what it does not say.  It does not say that having your meter changed is illegal.   It does not say that changing a meter constitutes tampering.  Because it isn't and it doesn't.
This is where PG&E's claim falls to the ground.   They are hoping that by intimidating individuals who want their 'smart' meter off — by sending threatening letters, and using scary words — that they can dissuade 99% of the public from taking the very reasonable step of having the class 2B carcinogen-emitting meter removed from their property.
The truth is that the so-called "mandatory" 'smart' meter program is so much smoke and mirrors – a house of cards ready to fall.  In reality, a utility like PG&E would be impotent in the face of thousands of people returning their unwanted 'smart' meters.  This is the stuff of smart grid company executive nightmares.
Let's make those nightmares a reality.