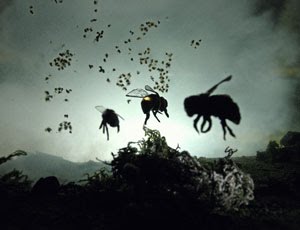 Want a fright for Halloween?  How about our food supply being seriously disrupted? Now, according to a letter to the editor from Prescott AZ, we have installers promising residents that the EMF from the meters will "get rid of bees."  We've heard a number of reports now about bees disappearing around the vicinity of wireless meters.
We know that bees are critical pollinators that we depend on for much of our food supply.  We know that bee populations are in decline, and this is being linked with EMF's by many researchers.  Yet no environmental impact report (EIR) was ever carried out on the 'smart' meter program to assess- much less prevent such disruptions to natural systems.  Here's the letter:
I love my smart meter.

We had a bee colony close to my meter. When the APS guys came to put in the smart meter, I warned them of it. One told me, "Don't worry, this will get rid of them."

After a few days, they abandoned and never returned.

So, I am a giant smart meter fan, since it got rid of possible killer bees. My bills are a little higher than comparable periods in the past, but I am willing to pay that price to stop worrying about the bees.

Daily Courier, Prescott, Arizona
"Finally we're questioning things like the collapse of the bee colonies all over the world. It's significant. It's global and It spells great threat for our human species. If we lose the pollinators, game over. We won't be able to feed the planet.
It's clear to me that bees which again operate within the natural background field of electromagnetic energy that the earth produces and that actually locate their food sources and their hives and communicate that to the rest of the bees in the hives-they come back and do the dance and say here's where we go to find the pollen and then off they go–following a natural lay line-these are being confused and completely cross modulated"
-Starling Childs, Geologist and Forestry Consultant, Yale.