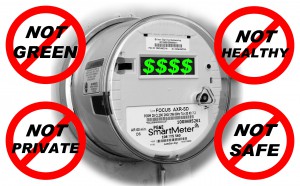 Having been forced by bad press to throw sickened customers a meager bone–the option to keep an analog on an individual basis only, at an inflated cost–PG&E CEO Anthony Earley made this astonishing remark: "Why should we be fighting with our own customers over something like this?"
Why fight indeed? Over something as petty and inconsequential as the right to be safe in one's home?  The right to privacy behind closed doors?  The right to be safe from electrical fires?  The right to not live in a low-level microwave oven for the rest of our lives.  Let's all just get together, roast some chestnuts and pretend there's nothing wrong.

We think Mr. Earley may be a little late grasping the facts:
The US government says 'smart' meters are NOT mandatory as per the Federal Energy Act of 2005. This letter from a US Representative clarifies the matter. OPT-IN is the only legal way this program could have been implemented.
"Smart" meters emit a Class 2B carcinogen into people's homes. 'Smart' meters are toxic–adding 10,000+ strobing pulses of radio-frequency microwaves into customers' lives. The RF peaks inside a 'smart'-metered home exceed what a nearby cellphone antenna array would contribute, an RF source already known to harm humans.
"Smart" meters are making many, many people sick. Accounts continue to pour into SmartMeterHelp.com, and EMFSafetyNetwork.org.
"Smart" meters are not safe. They have caused fires and explosions,  shocks, arcing, appliance damage, and interference, and continue to do so. These devices lack UL certification. No utility has the right to endanger people and property.
"Smart" meters do not save energy. They are green-wash of the deepest dye. They use energy themselves, and studies have not shown any significant energy savings, or customer savings. The savings (that is, no meter readers to pay) goes straight to the utility. The PG&E program cost $2.3billion, which came out of our pockets. Deployment of 'smart' meters is picking low-hanging fruit–meanwhile the real work of updating the grid is delayed.
"Smart" meter data is not well protected. Privacy in the home is threatened by detailed information being broadcast wirelessly. Some utilities believe they OWN that data.
We know who PG&E cares about pleasing, and it is not customers:  PG&E spent $79M in the last couple of years lobbying congress–only one other company in the US  outspent PG&E, and that was General Electric. They are a huge contributor in California politics.
So, Mr. Earley, that is why we will continue to fight your toxic, expensive, extortionate, environmentally harmful, dangerous surveillance meters.  With all this evidence piling up, why would anyone want to opt IN?
We've said it before and we'll say it again.  Opt out is a cop out.  Smart meters are bad policy- period.  Time to wise up and *Pull the Plug* on the 'Smart' Meter debacle for good.