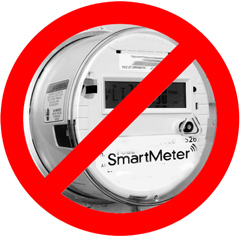 There are websites and groups using "stop smart meters" as their rallying cry all over the US, in Canada and Australia, and now in Britain (see below for a round-up). There is a documentary film brewing with the same name. Is this a great big organized conspiracy, like the one that many feel brought us the meters in the first place?
Fighting smart meters has been, and largely remains, grassroots work. This issue has brought together people from all over the traditional political "spectrum"–people who've often independently arrived at the conviction that these data-gathering, wirelessly-transmitting meters must be stopped. The utilities may not have realized that a small amount of real information about the meters is often all that makes the difference between an ignorant customer accepting an "upgrade," and an outraged opponent who writes letters and emails, starts a blog, and says "NO!" Utilities trade in secrets and count on ignorance; we deal in truth and trust people to decide for themselves.
Though the number of grassroots websites popping up everywhere is hard for us to keep track of, here is brief list of ones using 'stopsmartmeters' in their site name. We are very happy to be copied! (Write us if we've missed you.)

In the U.K.: Stop Smart Meters (UK)  https://stopsmartmeters.org.uk. Just started, and raring to go. They say: "We encourage everyone to look into this programme for themselves, to get informed about the real issues at stake and say 'No'." Recent post: "MPs Warn Smart Meter Plan is £11bn Fiasco". Our elected officials here should care as much for consumer costs.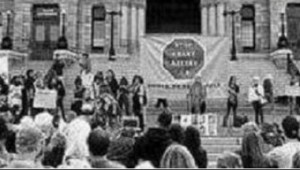 In Michigan: Michigan Stop Smart Meters http://michiganstopsmartmeters.com. They say: "Concerns about the electromagnetic pollution of our environment and about infringements on our privacy are not left-wing or right-wing." Recent win: Michigan Regulator Opens Smart Meter Investigation.
In Irvine CA: Stop Smart Meters Irvine http://stopsmartmetersirvine.com/ They say: "In order for these positive things to happen, we need everyone who is concerned to get involved … Even a very tiny action such as a 60-second phone call is a big deal." Recent post: Media Blackout on Smart Meter News –excellent original work, as Melissa Levine works to roust the sluggardly attention of the LA Times re smart meters and RF.

In Orange County CA: Stop OC Smart Meters http://stopocsmartmeters.com They say: "Get the word out!" and it's clear they take their own advice. For the latest, Facebook: http://www.facebook.com/pages/Stop-OC-Smart-Meters/164620026961366

In Australia: Stop Smart Meters Australia http://stopsmartmeters.com.au/ They say: "Join the Rebellion!" Can't say better than that. Recent post: Crucial Data Missing from Smart-meter Customers' Bills. Another: "I Wake Up with Headaches Every Morning."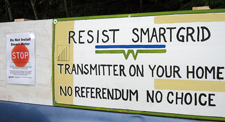 In Canada: Coalition to Stop Smart Meters http://www.stopsmartmetersbc.ca They say: "Committed to a full review of the current smart meter program." Recent post: An invitation for those affected by RF radiation to join the BC Human Rights Tribunal.