Earlier this month author, blogger, and San Francisco citizen-activist Edward Hasbrouck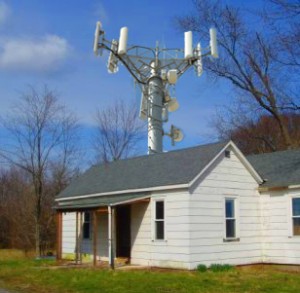 filed a protest with the CPUC regarding the so-called smart-meter "opt-out" program they recently approved for PG&E customers. Read his blog post here.  In his protest he argues that PG&E far oversteps the mandate given to it by the CPUC opt-out ruling. In addition he raises concerns so many people have also expressed about the legitimacy of PG&E installing what amounts to telecommunications facilities on each and every home in its service area:
A "SmartMeter" is actually a general-purpose digital radio transceiver including an unknown array of sensors, which would form a node in a PG&E wireless mesh data network. In other words, a "bug" that I would allow the utility to install inside my house, for its profit. […]

In effect, PG&E is seeking […] to use its "foothold" on customer premises at the gas and electric meters to effect an uncompensated taking of valuable radio transceiver and antenna siting rights, which property owners would otherwise be entitled to reserve, to exercise for themselves, or to sell or rent to parties and on terms of their choosing.
In addition, the way in which PG&E is going about the opt-out means that even if you don't agree to it, they will take your non-response as legal consent:
Unfortunately, PG&E […] has proposed to create a legal presumption that if no one is home when PG&E makes a field visit to install a SmartMeter […] the PG&E customer will be "deemed to have elected" to pay additional one-time and monthly fees for gas and electric service. [Read more.]
More support for what we have been saying all along: the opt-out fees are extortion–illegal and unethical. The customer base never agreed to have these harmful, illegal, snooping devices installed on their homes–they shouldn't pay to have them taken off.

The smart meter program, even in this opt-out portion, is riddled with gaping procedural and legal holes–where PG&E has consistently taken liberties way beyond their mandate as allowed by the CPUC. The ruling procedure has lacked any explanation for why those refusing to opt in wouldn't be rebated the cost of the smart meter ($300) never installed on their home. Nor why the cost of retaining an analog  by some customers shouldn't be borne by the shareholders.
Safety and fairness to the consumer, which are core to the CPUC's stated goals, have been missing from the beginning, replaced instead by pandering to the profits of the investor-owned utilities in CA, resulting in flagrant  disregard for consumer health, safety, and privacy–and private property rights.
UPDATE: Down in southern California, the utilities SDGE and SCE are trying to set up outrageous restrictions on how and when customers can opt out–even setting a date by which you must opt out–or you are stuck with a smart meter forever.
Post from Stop Smart Meters Irvine: http://stopsmartmetersirvine.com/2012/03/16/cpuc-issues-smart-meter-opt-out-proposed-rulings-for-sdge-and-sce-sce-will-not-allow-everyone-to-have-an-analog/
SCE has said they don't want to re-install any analogs, only digital, if that's what the customer had before the smart meter was installed. Read more in their CPUC filing.
"Smart Meter Opt-Out Ordered for SDG&E Customers" http://lamesa.patch.com/blog_posts/alert-smart-meter-opt-out-ordered-for-sdge-customers
SIGN THE NO-FEES PETITION: http://signon.org/sign/pge-smart-meter-fees