By Terri Keller, StopSmartMetersGeorgia.org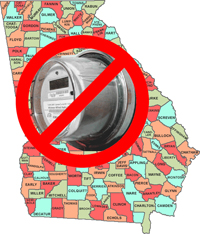 The smart meter fight in Georgia was looking better than most states: Senate Bill 459, allowing customer opt-out, passed the state senate without much tussle, and a free opt-out was on the way. Now that bill, as it moves to the Georgia House of Representatives, is being killed, by one representative on a subcommittee. That representative, Ben Harbin, has already established himself as a friend of Georgia Power, and not the ratepayer. Here's the latest. –ed.
How corrupt do you have to be to vote for children to get cancer, houses to burn down, electric bills to double and triple, and to put untold numbers of Georgians at risk? Ask the Georgia State House Energy Subcommittee and Representative Don Parsons, Chair, (404-656-9198/ repdon@donparsons.org). That committee has decided that Georgians should not have a choice to opt out of having this potentially deadly item on the side of our homes and businesses, by tabling Senate Bill 459.
Senate Bill 459, which passed easily through the Georgia State Senate in early March, would allow Georgians to "just say no" to having a "smart" meter digital electric meter. Since they were first installed, "smart" meters have caused numerous fires in our part of the country. One company insider, Don Baker, said that the brand of digital meter that Georgia Power is trying to force on us is "fundamentally unsound," due to causing fires and melting. He has brought a suit over that fact, stating that these devices can also overcharge customers by up to seven times. For details see (https://stopsmartmeters.org/2012/01/20/meters-that-endanger-shocking-details-from-a-whistleblower/). Georgia Power is an investor-owner utility. Investors, ask yourselves if this is a good long-term investment, and how the ultimate costs of lawsuits for fire and health damage will cut into your profits.
Despite the fact that the radiation pulsed by a "smart" meter hundreds—in some meters, hundreds of thousands—of times a day has been declared a Class 2B carcinogen by the World Health Organization, the electric company is installing them as close as 12 inches away from where children sleep. Children are especially susceptible to health effects from this type of radiation. To me, the fact that these meters can be hacked by a laptop—alerting someone to the fact you're away from home—is pretty mild by comparison, but still represents another danger that everyone should have the right to avoid.
We are now urging Georgians—and anyone in the U.S. supporting our fight—to call the members of the Georgia House Energy Subcommittee:
Representative Mark Hamilton, chairman, 404-656-5132 or mark.hamilton@house.ga.gov;
Also contact: G. Baker, C. Fullerton, M. Scott, C. Martin, J. Carson, E. Smith, R. Williams, H. Geisinger, B. Horne, and R. Dickey—full contact info for these people is at www.stopsmartmetersGeorgia.Org.
If you know anyone in Georgia, send them a note and encourage them to voice their objection to this move to table Senate Bill 459.
We need to remind them how necessary it is that they vote "Yes" on giving Georgians the right to opt out of having an unsafe "smart" meter on our homes. They must vote "Yes" on Senate Bill 459 by this week for this bill—and our families—to have a chance.
Representative Ben Harbin (404-656-3949 / ben.harbin@house.ga.gov) made the motion to table the bill—effectively tabling the rights, health, and safety of Georgia citizens. I don't know who seconded the motion, or who voted for or against, because Don Parsons' office will not say who took notes or who has the minutes of the meeting. (Parsons is the chairman of the full Energy, Utilities, and Telecommunications Committee.)
As has been discussed many times before on this website, the opt-out should be free for all energy customers. To charge people to protect themselves from radiation, surveillance, and fire danger is illegal and unethical. There is no federal or state law saying we have to have "smart" meters—the Federal Energy Policy Act of 2005 merely states that we can have one if we ask for one. So the electric companies should pay for them to be replaced, not the customers. The fact that they are untested for human safety means they never should have gone up in the first place, and are probably illegally installed! Those who choose to opt out should only be given safe, analog meters. Analog meters have been safely used in homes for over a century.
I'd like to remind everyone that—for Georgians at least—putting a sign under your safe, analog meter has kept many from getting a "smart" meter installed. The sign can say something along the lines of "DO NOT REPLACE METER. We refuse the "smart" meter due to health, safety, and privacy issues." Just put that in a gallon ziplock and tape it securely beneath your analog meter. Be sure and tell your family, friends, and neighbors, too, so you can watch out for each other.
[Editors' note: Attaching a sign is not enough in many places. After a phase of restraint, installers can begin to ignore and rip them down. Always consider protecting your private property rights by Defending Your Meter.]
An article came out just this week, saying that Georgia has the most corrupt state government in the nation. We'd like to prove them wrong, because we have seen the good that can be done. The Georgia State Senate passed this bill in no time. There is no reason for the Energy Subcommittee, then the House of Representatives, not to do the same. (Well, no good reason.)
But if enough people remind them not to throw their own constituents under the bus, maybe they will listen to their consciences.
Whatever the outcome, Georgians will definitely remember who voted "YES" in November. If not, rest assured that www.stopsmartmetersGeorgia.Org will remind them!
–Terri Keller, M. A.