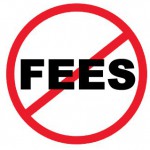 A campaign is mounting to fight the extortion: people are waking up to the outrageous fees PG&E is imposing on customers to "opt-out" of the smart meter program–a program no customer ever opted into–and that opposition is building all over the state.
This is bound to be a nation-wide movement as other states implement opt-out programs that use daunting fees to actively discourage customers from exercising their rights to be free of RF radiation, fire danger, and privacy intrusion.
Opt out fees are punitive, illegal, and extortionate.  Sign the petition that demands they be dropped.  Join hundreds of other people and refuse to pay. We are the many.  They are the few.