---
Stop Smart Meters! Bulletin
March 2015 — Volume 27
Web: https://stopsmartmeters.org
Twitter: @stopsmeters
Post: P.O. Box 682 Portola, CA 96122 US
**LATEST DIRT ON PG&E & CPUC CRIMES**
LA FIREFIGHTERS TRIUMPH IN CELL TOWER FIGHT
GREAT DEAL ON CORNET ELECTRO-SMOG METER
---
QUOTE OF THE MONTH
"A foolish faith in authority is the worst enemy of truth."
-Albert Einstein
---
CONTENTS
1. Want Smart Meters Halted? Volunteer/ Donate & Make it Happen
2. Official Collusion in California to Hide Smart Meter Overcharging
3. CPUC's Zafar: "Don't Manipulate Age and Fragility to get your way"
4. Michael Peevey, Former CPUC Prez: "People Feel Pain from EMF's"
5. PG&E Suggested "Prozac" for Those Injured by Smart Meters
6. PG&E Threatening 84-Year-Old Santa Cruz Woman with Disconnect
7. "CPUC is a Rogue Agency" – Protesting Peevey's (ex parte) Party
8. FREE Stop Smart Meters! Awareness Cards and Brochures
9. Support LA Firefighters & Stop Toxic Towers
10. Great deal on Cornet EMF ED78S Analyzers in Our Store
11. Follow Stop Smart Meters! on Twitter—Or Don't!
---
1. Want Smart Meters Stopped? We Need Help! Volunteer/ Donate/ Spread the Word Today
As the movement has grown, so have the demands on our network to respond to requests for technical and organizing assistance, respond to industry misinformation, fill orders for campaign materials, keep our database current, and continue to bring you breaking news and investigations through our website, twitter feed, and our monthly bulletin. At times these tasks can overwhelm. Apologies if we have not yet responded to your individual e-mails- we are working to keep up! Try our extensive FAQ pages for immediate answers to your burning smart meter questions.  How can you make a meaningful contribution to the movement?
A. Volunteer If our grassroots network is going to collectively mount a serious widespread challenge to well-funded, fully staffed industry groups like the Smart Grid Consumer Collaborative, who are busy spreading reassuring lies, essential tasks must be carried out. What we need now are capable, committed volunteers in the fields of:
•Graphic design    •Database Management   •Web Design   •Data entry •Translation   •Fundraising   • Public Relations   •Video work/ editing •Tabling   •Writing and media coverage
 Please contact us if you have any of the above skills and could spare a couple of hours a week to lend support to a Stop Smart Meters! campaign.
B. Donate If volunteering isn't your thing, please make a one-time or regular donation so we can hire support staff. Even small contributions add up and make a huge difference.  From now until June, a generous donor will match your donation dollar for dollar– essentially doubling your donation to the cause. Donate online here or send check to: Stop Smart Meters!  PO Box 682 Portola, CA 96122 Please inquire about tax deductible donations. Thank you.
C. Spread the Word– Get three people you know to subscribe to this bulletin today, using the link below. Even if you are already subscribed, please visit this page to enter your zip code and name so we can keep you up to date on developments in your local area. Here's the page to send out and register for the SSM! Bulletin:
https://actionnetwork.org/forms/subscribe-to-stop-smart-meters-monthly-bulletin
2. PG&E and CPUC Hid Smart Meter Overcharges
Backroom, "off the record" e-mail conversations between PG&E, the California utility and CPUC the regulatory agency- made public through legal proceedings related to the San Bruno explosion- now reveal serious accuracy problems with smart meters linked to temperature, conflicts of interest between PG&E and Structure- the firm hired to study smart meter accuracy, and a conspiracy to cover up those ties in order to falsely reassure the public that smart meters were not leading to inflated and inaccurate bills.  Thx to EMF Safety Network for research and Brian Narelle for the illustrations.
3. Marzia Zafar, CPUC re: 75 year old woman cut off: "Tell her to not manipulate her age and fragility to get her way"
From the e-mails, it seems that again and again there is one particular individual at the CPUC who pushes the utilities to be even more mean, hard, and cruel than they already are. (and that is a feat indeed!)
That person is Marzia Zafar, current Director of the Policy and Planning Division at the CPUC- a veteran of the utility industry and of the revolving door system of corruption at state and federal agencies, now in a position of power to make people's lives hell. And she has apparently not wasted one opportunity.
The CPUC claims that it "serves the public interest by protecting consumers and ensuring the provision of safe, reliable utility service and infrastructure at reasonable rates." Yet internal e-mails show betrayal of the public interest, and state-sponsored tolerance, even sponsorship, of elder abuse. After a 75 year old woman is left with no electricity at Christmastime in Santa Cruz, Zafar suggests that PG&E tell the woman "not to manipulate her age and fragility to get her way."
4. CPUC's Peevey: "People….Feel Pain from EMF's"
More incriminating e-mails coming out between the CPUC and PG&E, confirming that Peevey (and the CPUC itself) have been more of a servant to the utilities rather than a watchdogs.  Peevey apparently does believe- as has anyone who has looked into the issue in any depth- that some people do indeed experience health problems from smart meter radiation. Michael Peevey wrote: "There really are people who feel pain, etc., related to EMF,etc., and rather than have them becoming hysterical, etc., I would quietly leave them alone." As Peevey privately admitted the harm to colleagues in industry, he approved extortive fees the public were told they had to pay in order to avoid that harm.
---
5. PG&E Suggested "Prozac" for Those Injured by Smart Meters– SCE Schemed Higher Fees to Force Smart Meters on the Poor
New e-mails brought to light between Pacific Gas and Electric (PG&E), Southern California Edison (SCE), and the California Public Utilities Commission (CPUC) reveal the extent of corruption and backroom dealing that have characterized the state's smart meter program. Commissioners and staff experienced overcharging and electronic interference issues with smart meters on their homes.Meanwhile, utilities schemed with regulators behind the scenes to raise opt-out fees to force people in poverty to stick with the unpopular meters and prop up the failing multi-billion dollar smart grid program in California.
PG&E's Brian Cherry, VP of Regulatory Relations, suggested that those suffering from health problems related to smart meters should take "Prozac," in arrogant disregard for people's real suffering.
Further PG&E Arrogance Unveiled
6. PG&E Threatening to Disconnect 84-Year-Old Woman in Santa Cruz
PG&E sent Lois a 15 day shut off notice in February, stating she owed $115. A few days later she received a message they will cut off her power today if she doesn't pay.
Lois writes, "I have always paid all my bills, except the opt-out fees. I insisted on keeping my old meter. They did not give me a new one. I have been on record all along as refusing a smart meter. I am 84 years old, with rapidly deteriorating vision. I would not want them to disconnect me as I get along poorly without light. Yet, I would rather they turned me off than pay their extractive fees."
Based on communications received from people around the state, it is evident that utilities are threatening and coercing people on a systemic level, but that they are bluffing about disconnecting people who don't pay  "opt out" fees. PG&E and other utilities  are deceiving people about the (ready) availability of analog meters, and delaying smart meter removals for weeks, sometimes substituting smart meters that appear to be analogs- so called "trojan horse meters" while still charging people a fee. These practices are not only eroding (what shreds remain of) the utility's credibility, they are creating serious stress for some of our state's most vulnerable residents.
Get the Whole Scoop on Utilities' Foul Bully Tactics

7. "Rogue Agency" – Protesting Peevey's (ex parte) Party
Former CA Public Utilities Commission President Michael Peevey- under investigation by the State and US Attorneys for corruption and bribery- was bizarrely honored at a party in San Francisco last month. Check out this video with statements including from ex CPUC President Loretta Lynch, who calls the current CPUC a "rogue agency" and says it is no longer fulfilling its remit to protect the safety of the public.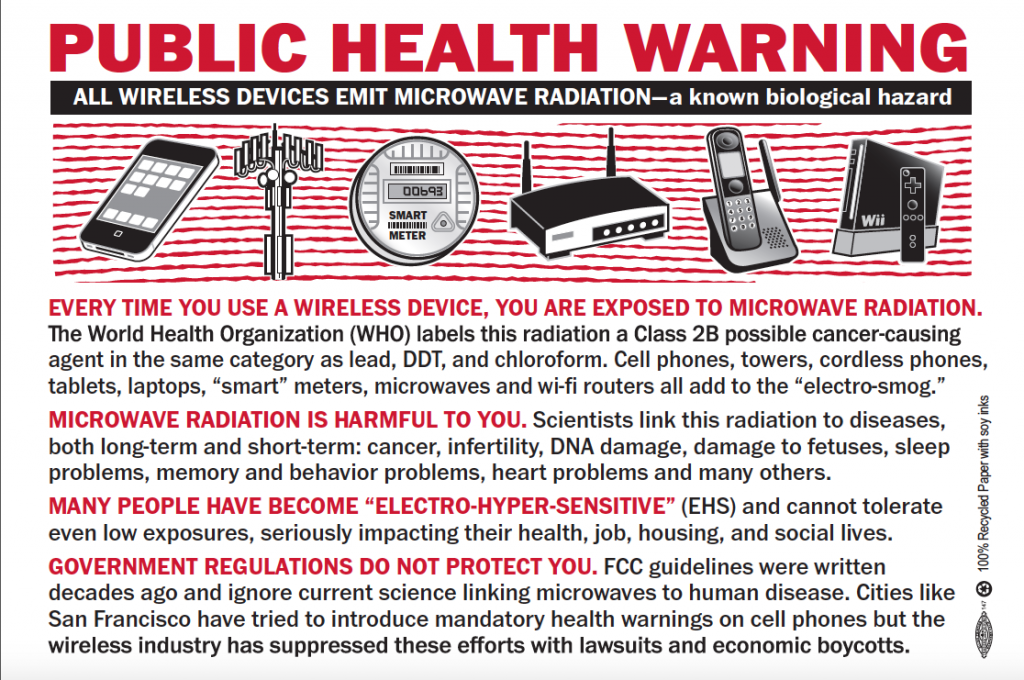 8. FREE Stop Smart Meters! Awareness Cards/ Brochures! Spread them around your Community
Thanks to a generous donor, for a limited time we are able to offer packs of 50 of our public warning cards and smart meter awareness brochures for only the cost of shipping ($3.95/$5.95, one order per household). Order as usual through our online store, where we also have Mobilize and Take Back Your Power DVD's, stickers, and Cornet EMF Analyzers that measure radiation from smart meters, cell towers, phones, wi-fi, and power lines. 
9.  LA Firefighters & Community Halt Toxic Wireless System on Fire Stations- Find Out Whether the System is Coming to Your Area
Last Tuesday, the Los Angeles County Board of Supervisors halted a controversial emergency wireless project, under pressure from an impressive alliance between emergency personnel and  their union and community activists.
This message has been being broadcast on LA radio stations:
"This is fire captain Lew Currier. Los Angeles County is installing cell towers on 86 fire stations near you. The radiation generated by these seven story eye sores can cause debilitating health effects. Studies suggest nearby families could get sick too, yet the board of supervisors is erecting these toxic towers without public hearings or required studies. This time, be there for us, your firefighters. Call the Board of Supervisors at 213-974-1411. Tell them to stop the cell towers, NOW. This message is brought to you by Los Angeles County firefighters local 1014."
Find out more about the LA Toxic Towers Campaign and Spread the Word!  These wireless emergency alert networks are springing up everywhere.
LA Times Article           CBS News Coverage
10. Get a Cornet EMF Analyzer from Our Online Store
Cornet ED78S Electrosmog EMF Analyzers are available direct from the SSM! store at $139.95 each including fast and free Priority shipping. Includes new SSM! Easy Start Guide, and Energizer 9V Battery. We have the lowest prices around on these pocket sized accurate and useful RF/ LF analyzers that measure invisible RF and LF radiation from smart meters, cell phones, power lines, home wiring etc. Click here to purchase a Cornet meter or browse the other outreach materials available in our online store (brochures, cards, stickers, videos, etc). Proceeds support advocacy work.
11. Follow Stop Smart Meters! on Twitter—or Don't!
For the latest campaign updates and links to breaking news stories, follow us on Twitter! We are "stopsmeters." Our latest tweets also appear on the upper right hand side of our website. Click here to follow us on twitter.
Or get off the computer and go enjoy a hike instead.
Here are some key tweets from the last month you may have missed:
FCC Chair Tom Wheeler's testimony disrupted in DC on March 18th by Stop Smart Meters! t-shirt wearing demonstrator
France bans wi-fi in pre-schools amidst growing awareness of cancer & autism risks
What it's like to be injured by Wi-Fi and become hyper-sensitive?
Global Union Against Radiation Deployment from Space- GUARDS Launched
The Wireless Empire Strikes Back in a coordinated attack on science after NY Times article on hazards of wearables
US has "totally vulnerable grid infrastructure" according to insiders
Electro-Hyper-Sensitive people organizing safe communities
Feds investigate PG&E re seismic risks at CA Nuke Plant.
Utilities wage campaign against rooftop solar — as the death spiral begins
"Democracy depends on people having information." SMUD lousy at updating Sacramentans of Analog option
Barbados water authority begs residents to "stop vandalizing" new smart water meters.
"Culture of lawlessness" of PG&E and CPUC – it costs lives, health, and the environment of California
Wireless Radiation: What Scientists Know and You Don't with Dr. Joel Moskowitz
9 reasons only a tool would buy an Apple Watch beyond the obvious- a "health device" emitting carcinogenic radiation
Quebec city firefighters tell electric utility hands off the crime scene after smartmeter fires
Smartmeters slammed at New York hearing
New Investigation into high dirty electricity levels at a La Quinta Middle School in California causing cancer
---
"Our lives begin to end the day we become silent about things that matter."     
-Martin Luther King Jr.