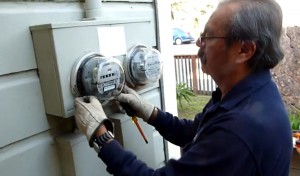 Tuesday's post documenting the return of Caitlin Phillips' analog meter by PG&E brought a great number of emails to Stop Smart Meters! in the days that followed.
This was confirmation of what we already knew: many of California's ratepayers are very eager to have their "smart" meters removed and replaced by an analog—often these are people who have been suffering with persistent health complaints, like insomnia and headaches, since installation.

Caitlin jumped through many hoops before PG&E stooped to her simple request: to regain what she never consented to have removed—her old, fully functioning electric meter. She wrote to PG&E, the CPUC, and when her requests were ignored, bought a replacement analog meter and had the smart meter removed.  Only when she spoke at a CPUC meeting on Oct. 20th and told the Commission what she had been forced to do, did President Peevey direct PG&E to replace the analog meter on her home.
Unfortunately, right now, anyone wanting to get back an analog meter will also have to work hard to get this to happen. If you are within driving/transit distance of San Francisco, we urge you to come to the next meeting of the California Public Utilities Commission, on Thursday November 10, 2011, 9 a.m. Arrive 15 minutes early to sign up to speak. Chandu Vyas and Elizabeth Barris both asked for and were granted analog meters during the public comment portion of CPUC meetings. (CPUC, 505 Van Ness Ave. San Francisco CA.) For those who cannot make the trip, see the end of this post for a way to participate via phone.
Make sure you ask for—and get—an analog meter, not a "non-transmitting" digital meter, as these have also been linked with health effects. Basically, it is your home and no one has the right to force a device on your home that you don't want—it's as simple as that! Don't give your utility the power over you by asking them if they can please remove the meter—demand that they do so immediately and let them know you will contract with a professional to get the job done if they refuse.
Other news: Article on SFGate.com confirming the huge number of data pulses each day from electric "smart" meters:  "SmartMeters send almost 10,000 signals a day". Some 'smart' meters send out over 190,000 signals every day!  We've been warning the Commission and the public about this for months and it turns out we were right!  Read more analysis of the radio-frequency problems of 'smart' meters disclosed by the utilities  in this recent post on EMFSafetyNetwork.org.
Participating via phone in the public comment portion of the CPUC meeting: If you cannot make the trip, then, please contact the CPUC and request accommodation to speak during public comments by phone. They say they need three days to arrange accommodation, so contact them by Monday morning Nov. 7. The Public Advisor's office is (415) 703-2074