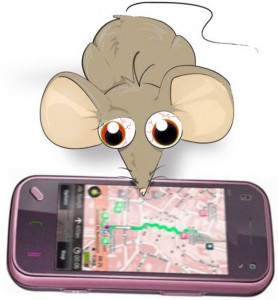 Scientific studies can be hard to sort out. "Experts"–often paid by the wireless industry–weigh in on RF radiation science, and many pronounce your cell phone "safe." People tend to rely on two-minute TV news stories, with a talking head or two, because most of us don't have the time or training to plow through the mountains of detailed data presented in peer-reviewed papers.
But it's not as hard as you think. Let's look at a just-published study on cell-phone and cordless-phone radiation. (Full text here.) It is published in Electromagnetic Biology and Medicine, a journal that has been around for 30 years. Reading just the summary, we see the researchers, located in the Dept. of Cell Biology and Biophysics at the Univ. of Athens in Greece, subjected mice to cell-phone-frequency radiation—which also happens to be the same frequency as most smart meters—for a few hours a day.  Another set of mice were exposed to cordless DECT phone radiation for 8 hours a day, a slightly different frequency, but near that used for some types of smart meters.  The mice were not available for comment, but were most likely unwilling participants in the research.  We relate.
They studied "whole-body" RF radiation, at the actual levels people are exposed to in typical usage—which is well below what the FCC says is okay for you. Whole-body numbers are the relevant ones if you are talking about smart meters, as this post points out. Many people don't even put their phone to their head anymore, so whole-body measurements are probably more relevant. These researchers picked some crucial areas of the brain to look at—basic functions like memory, attention, reward, and planning.
A previous study by this group showed that just 120 minutes a day of cell phone radiation made mice pretty dumb: they couldn't remember what they'd learned the day before about the maze. The wireless industry would likely just advise them to get GPS!
This just-released study looked at brain chemical changes—proteins that make it possible for one bit of your brain to talk to another, and for the brain to protect itself and repair from damage. What happened to the mice who used 180 "Rethink Possible" minutes a day? Simply put, their brains showed serious deficits in important chemicals, or way too much of other ones. "Rethink Possible" can result in some seriously impaired thinking.
"The observed…changes may be related to brain plasticity alterations, indicative of oxidative stress in the nervous system or involved in apoptosis and might potentially explain human health hazards reported so far, such as headaches, sleep disturbance, fatigue, memory deficits, and brain tumor long-term induction under similar exposure conditions. … The reported herein effects can be considered non-thermal."
To break it down: Brain plasticity: that's means how well the brain adapts to new information and situations; bright mice adapt quickly. Oxidative stress: bad shenanigans in your cells, that you eat your veggies to avoid. Apoptosis: cell death—that is, when your cells are programmed to kick off, and whether they get pinkslipped earlier than they should. Human health hazard: that's what people made sick from smart meter have been saying–see this list of reported smart-meter harm. Non-thermal: that's low levels of RF that the FCC doesn't care about, doesn't regulate, and doesn't track, but which science shows can harm you.
These changes weren't just tiny ups and downs, but in some cases the levels jumped up or fell by a factor of hundreds. For instance, something called "nerve growth factor glial maturation factor beta (GMF)" fell by a factor of 300 times for the mice in the cordless DECT phone experiment, a vital chemical change that the researchers conclude may impact the basic maintenance of the nervous system. It could keep your brain from cleaning house like it should.
Another brain protein called "GFAP" overproduces in both kinds of RF radiation, and this may lead to glial-filament overproduction, eventually giving rise to a mostly incurable type of tumor associated with cell-phone use called glioma. In any case, these various radiation-induced dis-regulations of brain chemicals are a clear sign of oxidative stress, something long recognized as degenerative to the human body.
The researchers finish their report by noting among other things that their study is the first to look at the brain chemical effects of a particular consumer product that can be found in the overwhelming majority of homes around the first world—the cordless phone (DECT). That is an astonishing fact: consumers everywhere have been buying these little 'miracles of convenience' for two decades, and there has been no regulatory concern for the long-term health effects. Given the fact that they can constitute a 24 hour-a-day exposure for many people, at home and at work, serious attention should be paid to this exposure source. Here is a gold-standard study showing clear heart-rhythm effects from DECT phones (video). [Or read the paper.]
Smart meters emit the same frequencies, but in a bizarre pattern of spikes. These spikes can be easily higher than either cell phones or cordless phones, as has been calculated here and documented here. Further, as experts have have pointed out, the exposure is involuntary. As it is with rodents.
Studies like these need to be read and understood by regulators and legislators everywhere who are wrestling with the issue of smart meters.
The science is out there for anyone to read and interpret! Please don't leave this sort of vital review of the science to the utility representatives you are supposed to be overseeing, or so-called independent bodies that are in fact merely towing the utility line. Peer-reviewed scientific papers have many parts written in plain English, and we think you can deal with it