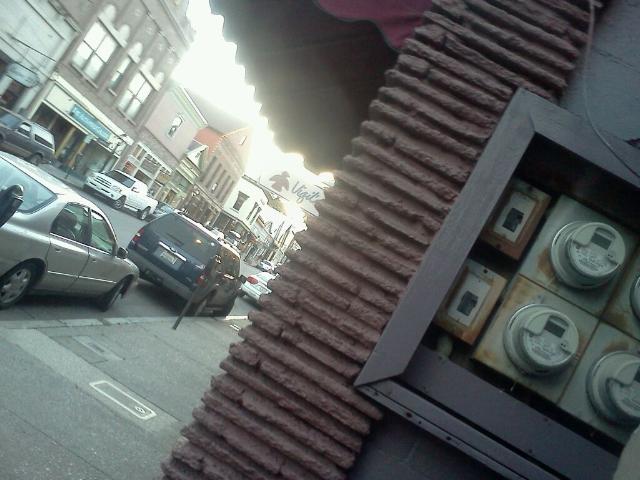 By Josh Hart, Director StopSmartMeters.org
Nevada City is an old gold rush mining town in the foothills of California's Sierra Nevada Mountains. Home to hippies, new agers, and spiritual communities, the area also attracts artists, musicians, and writers and has a thriving local culture. It feels like you are in an old western when you walk down the town's main street.  That is, until you notice the ugly plastic wall-warts known as smart meters attached to the buildings lining Broad Street. People stand and smoke next to banks of the meters, many unknowingly getting a special two-for-one deal on carcinogens.
Pacific Gas and Electric Company– corporate villain extraordinaire- was founded in Nevada City in the 1890's, with its first offices located at the National Hotel on Broad Street. What started small has grown so big that some officials are now saying openly what has been obvious for years—that the utility may be too large to operate safely and it's time it was dissolved.
PG&E deployed smart meters into Nevada City in 2012. Three years of widespread negative experiences with the meters have recently come to a boiling point. In February, dozens of residents showed up to demand formal action by their council to join the 57 other local governments in California that have resisted smart meter deployment, fifteen of which have outlawed the meters.  Two of the fifteeen–Sebastopol and Fairfax–are still enforcing the ban which along with resident action has prevented PG&E from deploying fully in either city.
While staying in Nevada City with friends in 2013, I met a woman who would become a key organizer in the area. Berry Bartolillo contacted me after becoming very sick when a bank of wireless AMI smart meters were installed on her apartment building. At that time, very few people in town were aware of the health problems with the new meters.  Having heard the same symptoms and same story thousands of times, I shook my head in disgust— and then advised her to get active.  What was needed was a local group to tackle the issue and raise awareness in the community.  Two years later, Stop Smart Meters! Nevada County is going strong, meeting weekly, and organizing the public around the immediate goal of returning the County to 100% safe analog meters.
Many in the group have been injured and subsequently sensitized to RF radiation. Conveying the health risks such exposure poses, particularly to pregnant women or the elderly, is a priority for the group. In order to get the message out, they have been canvassing outside natural food stores in town, talking to hundreds of people while handing out Stop Smart Meters! cards and brochures that include labels with local information.  Reports from the field are that many people are grateful for the info, and outraged when they learn the facts about the system that has quietly been forced into their community.
According to Berry Bartolillo, Co-Founder of Stop Smart Meters Nevada County,
"I could not fathom how the state allowed this big corporation to harm its own people and still allows it to this day. The first step was going to the City and informing them about the smart grid and asking for their help. We are confident that they heard us and are working on a plan. I just hope its sooner rather than later. I've just received a diagnosis of Electromagnetic Hypersensitivity–radiation sickness for short. Smart meters have ruined my health and my life."
The council has responded to renewed public pressure by holding a hearing on the matter, meeting with PG&E and Stop Smart Meters! and considering their next steps.
This groundswell of opposition has not flared up by chance but has been kindled by the hard work of dedicated activists who live in the area.
Organizing can and does make a difference!
In February, both Stop Smart Meters! and PG&E were invited to make presentations to Nevada City Council, after a large number of people contacted them with reports of health problems and general opposition to the meters.
More than 30 residents turned out and spoke at the late night council meeting to denounce the problem meters and demand an immediate ban and removal.  The video of the presentations and ensuing public comment can be viewed above.
Greg McKenzie, the PG&E representative at the meeting, was unable to answer reasonable questions posed by the council. Sending a staff person ignorant of the smart meter issue to a smart meter meeting seems to be a key utility strategy to prevent damning details from being acknowledged in public, like we witnessed last November in San Antonio, Texas.
PG&E is responding to the growing public pressure as they always do- putting greenwashed lipstick on their smart grid pig.   Recently, they announced a local renewable energy initiative in Nevada City.  No doubt one of the aims is to distract people and quieten the growing growls of discontent in the town. For renewable energy to be truly sustainable, the effort needs to come from the bottom, from the grassroots, not top-down from one of the largest corporations in the United States.
We continue to work with Stop Smart Meters Nevada County to support their work and provide organizing materials, technical assistance and strategic advice.  The group plans to spread outreach to the Truckee and Grass Valley areas in the near future, as well as take the issue to the County Board of Supervisors.  If you are in the area, why not join the group and volunteer for a shift at a local Stop Smart Meters outreach table? Or with another Stop Smart Meters group near you?  You'll be surprised at how widespread opposition is to the "smart grid" when people know the facts and how isolated and out on a limb the utility companies really are.
The truth is that— through unwise and short sighted technological decisions, PG&E is harming the town where it was born—a renegade, unwieldy (and unregulated) greedy monster despoiling its own nest.
But resistance is fertile in this strapping gold rush town…
To get in touch with Nevada County Stop Smart Meters! call their message line at (530) 277-6070 or find them on Facebook : Stop Smart Meters Nevada County
Sign the Petition to Ban/ Remove SmartMeters in Nevada County
Full Feb. 11 Nevada City Council packet