The following is a list of local governments within California who are opposed to the mandatory wireless  'smart' meter program.  Names of cities and counties are linked to news coverage or official council minutes that substantiate each city or county's inclusion.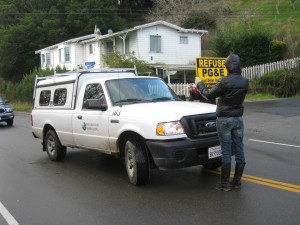 Those local governments in red have passed ordinances that have made 'smart' meter installations illegal within their jurisdictions. 
Note that these areas may still have smart meters installed, as utilities are widely ignoring and violating local laws.  Therefore do not use this list as a guide to finding low RF housing.

Counties (11)
Humboldt County (pdf)
Lake County
City and County of San Francisco
Santa Barbara County
Sonoma County — AB 37 Support Letter (pdf)
Cities and Towns (45)
Berkeley (pdf)
Blue Lake
Calabasas
Camp Meeker (pdf)
Carpinteria
Cotati (pdf)
Fairfax (pdf)
Fort Bragg
Marina
Monterey (pdf)
Monte Sereno (pdf)
Morro Bay (pdf)
Piedmont (pdf)
Richmond (pdf)
San Rafael (pdf)
Sebastopol (pdf)
Solvang
Simi Valley
Watsonville (pdf)
Other Jurisdictions (1)
Big Valley Rancheria/Tribal Community of Pomo Indians
Total Number Local Governments Opposed: 57
Total CA population represented:  3,831,272
Missing anyone?  Please e-mail us at info@stopsmartmeters.org