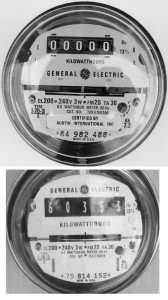 The Real Goods store, located in Northern California, has analog meters for sale, at a reasonable $49 each ($7.95 shipping). You can order one by calling them at (707) 472-2407.
You can also buy them on eBay.com here:
http://www.ebay.com/sch/e_kid123/m.html?_nkw=&_armrs=1&_from=&_ipg=&_trksid=p3686
These are analog meters with a numerical readout (not digital). They are used but refurbished, and their accuracy certified by a firm in Florida. Shipping is FedEx Ground, and it usually arrives in 1 to 2 days for CA addresses. They will also ship out of state. (The photo here is not a direct representation of the meters they sell, but very similar to their model.)
Is having your own electric meter changed a crime? Is it "tampering" as PG&E has told people? Basically, no, it does not constitute "tampering", i.e "a misdemeanor crime which requires the specific intent to get the utility service for a lower cost." Read more on EMFSafetyNetwork.org
From Sandi Maurer:Here's another source for analog meters at a lower cost:
http://www.hialeahmeter.com/siphwame.html
I spoke with Eric Fry at the Real Goods store (which sells solar systems made in the USA), and he says they are going a brisk trade in these meters. He wholeheartedly supports people being educated about their electricity, and people having choices. They do work with PG&E when installing systems, but he doesn't expect flak from them for freely selling analog meters.
We say, more power to them!